Day 1 Day 2 Day 3 Day 4 Overall Results New Year 500 km
Xmas Cup 2011 › Results › Day 1 › 27.12.2011
Racing Task | Final Results | Maximum Points: 562 | Day Factor = 1.000
| | | | | | | | | | | |
| --- | --- | --- | --- | --- | --- | --- | --- | --- | --- | --- |
| # | | PILOT | CN | RN | PLANE | DISTANCE | TIME | SPEED | PEN | POINTS |
| 1 | | Erik Praznovsky | 3P | OM-ERYC | Discus2 | 283.96 km | 01:54:15 | 149.1 km/h | 0 | 562 |
| 2 | | Andrzej Czop | CIA | SP-3043 | LS8 | 283.96 km | 01:59:36 | 142.4 km/h | 0 | 537 |
| 3 | | Jan Michalek | Y77 | JERRY | LS8 | 283.96 km | 02:00:00 | 142.0 km/h | 0 | 535 |
| 4 | | Soenke Neumann | SN | D-0815 | Discus2 | 283.96 km | 02:00:53 | 140.9 km/h | 0 | 531 |
| 5 | | Uwe Melzer | UWE | FUNFLY | Discus2 | 283.96 km | 02:02:06 | 139.5 km/h | 0 | 525 |
| 6 | | Horst Jahnke | DHJ | D-2056 | Discus2 | 283.96 km | 02:04:53 | 136.4 km/h | 0 | 513 |
| 7 | | Peter Suchan | PSU | SK-1981 | Discus2 | 283.96 km | 02:05:42 | 135.5 km/h | 0 | 510 |
| 8 | | Philipp Kapferer | PKM | D-KPPK | LS8 | 283.96 km | 02:04:47 | 136.5 km/h | 9 | 505 |
| 9 | | Jon Holland | 123 | G-RUSH | LS8 | 283.96 km | 02:06:55 | 134.2 km/h | 0 | 505 |
| 10 | | Dmitry Bednyak | DRD | DRDIMAN | Discus2 | 283.96 km | 02:07:04 | 134.1 km/h | 0 | 505 |
| 11 | | Lukasz Grochal | LKE | SP-5854 | Discus2 | 283.96 km | 02:08:20 | 132.8 km/h | 0 | 500 |
| 12 | | Jens Moeller | DK2 | XL136 | LS8 | 283.96 km | 02:08:29 | 132.6 km/h | 2 | 497 |
| 13 | | Aleksey Chernov | AV7 | AIRMAN | LS8 | 283.96 km | 02:10:44 | 130.3 km/h | 0 | 490 |
| 14 | | Winfried Deppe | WD | D-2709 | Discus2 | 283.96 km | 02:10:49 | 130.2 km/h | 4 | 486 |
| 15 | | Jiri Adam | ADX | OK-0024 | ASW28 | 283.96 km | 02:13:02 | 128.1 km/h | 0 | 482 |
| 16 | | John Verschoor | 76 | PH-1176 | Discus2 | 283.96 km | 02:14:12 | 126.9 km/h | 6 | 471 |
| 17 | | Wito Roz | WRW | SP-RZR | Discus2 | 283.96 km | 02:15:36 | 125.6 km/h | 1 | 471 |
| 18 | | Arne-Martin Guettler | AXM | LN-GOD | LS8 | 283.96 km | 02:17:56 | 123.5 km/h | 2 | 462 |
| 19 | | Radek Mica | RUM | OK-5417 | LS8 | 283.96 km | 02:17:57 | 123.5 km/h | 4 | 460 |
| 20 | | Piotr Woryna | WR | SP-3665 | Discus2 | 283.96 km | 02:22:02 | 119.9 km/h | 1 | 450 |
| 21 | | Fabian Geissler | 4G | D-3829 | Discus2 | 283.96 km | 02:24:24 | 118.0 km/h | 0 | 443 |
| 22 | | Michel Bonardel | BNL | MB-170 | LS8 | 283.96 km | 02:25:47 | 116.9 km/h | 2 | 437 |
| 23 | | Vaclav Korinek | VK | OK-3806 | Discus2 | 283.96 km | 02:26:08 | 116.6 km/h | 2 | 436 |
| 24 | | Erwin deBruin | EDB | PH-1999 | ASW28 | 283.96 km | 02:25:37 | 117.0 km/h | 8 | 431 |
| 25 | | Tom Bouctou | BIR | D-9876 | Discus2 | 283.96 km | 02:26:22 | 116.4 km/h | 7 | 430 |
| 26 | | Alf Von Mahren | XX1 | OK-ALF | Discus2 | 283.96 km | 02:29:17 | 114.1 km/h | 0 | 428 |
| 27 | | Frank Paynter | TA1 | N62TW | Discus2 | 283.97 km | 02:29:44 | 113.8 km/h | 0 | 427 |
| 28 | | Daniel Skoczylas | DXS | SP-2881 | Discus2 | 283.96 km | 02:30:08 | 113.5 km/h | 3 | 423 |
| 29 | | Vladimir Fedorov | VLF | RA-VLF | LS8 | 283.96 km | 02:30:52 | 112.9 km/h | 2 | 422 |
| 30 | | Rostislav Broz | YA | OK-6301 | Discus2 | 283.96 km | 02:31:40 | 112.3 km/h | 3 | 419 |
| 31 | | Jiri Holub | JHO | OK-4408 | ASW28 | 283.96 km | 02:37:37 | 108.1 km/h | 1 | 404 |
| 32 | | Lubos Faitz | LFM | OK-4812 | Discus2 | 283.96 km | 02:38:44 | 107.3 km/h | 0 | 402 |
| 33 | | Eric Schverdorffer | ES | FCY-131 | LS8 | 283.96 km | 02:37:45 | 108.0 km/h | 4 | 401 |
| 34 | | Alain Zutter | AZZ | F-CGAZ | Discus2 | 283.96 km | 02:40:30 | 106.2 km/h | 0 | 398 |
| 35 | | Anton Lovi | AL9 | OE-2133 | LS8 | 283.96 km | 02:40:54 | 105.9 km/h | 4 | 393 |
| 36 | | Dusan Masaryk | DWE | OM-RED | ASW28 | 283.96 km | 02:43:55 | 103.9 km/h | 2 | 387 |
| 37 | | Mangirdas Juodinis | 07M | LY-MAN | Discus2 | 283.96 km | 02:49:23 | 100.6 km/h | 2 | 375 |
| 38 | | Eric Mimaud | J51 | ACT40 | LS8 | 283.96 km | 03:00:49 | 94.2 km/h | 0 | 372 |
| 39 | | Ladislav Cervinka | LAD | OK-1979 | ASW28 | 283.96 km | 03:07:39 | 90.8 km/h | 0 | 372 |
| 40 | | Rudolf Kalousek | R1K | OK-7777 | LS8 | 283.96 km | 03:14:10 | 87.7 km/h | 0 | 372 |
| 41 | | Stanley Vana | SV | 0K-0110 | Discus2 | 283.96 km | 03:55:25 | 72.4 km/h | 8 | 364 |
| 42 | | Hans Nyc | JN | OK-6200 | Discus2 | 273.71 km | | | 0 | 359 |
| 43 | | Araldo vandeKraats | 32 | PH-AVDK | ASW28 | 269.8 km | | | 0 | 354 |
| 44 | | Tomas Vana | TVM | OK-0269 | Discus2 | 283.96 km | 03:03:23 | 92.9 km/h | 29 | 343 |
| 45 | | Antonin Fischer | AFI | OK-1103 | Discus2 | 244.16 km | | | 0 | 320 |
| 46 | | Miroslav Lakota | MLK | MLKSK | LS8 | 199.3 km | | | 10 | 251 |
| 47 | | Michal Szalek | 4MS | SP-7470 | Discus2 | 50.1 km | | | 27 | 0 |
| 48 | | Petr Vosahlo | 117 | 7117 | ASW28 | 274.34 km | | | 0 | 0 |
| 49 | | Jaroslav Pincek | H7 | PINDAS | ASW28 | 274.28 km | | | 2 | 0 |
| 50 | | Lars Zinnkann | LZN | D-1978 | Discus2 | 273.88 km | | | 0 | 0 |
| 51 | | Lucasus Gaura | 666 | HELL666 | Discus2 | 273.75 km | | | 2 | 0 |
| 52 | | Lubos Hodan | IH | OK-7304 | Discus2 | 267.5 km | | | 0 | 0 |
| 53 | | Miroslav Ladnak | MIL | OM-ORLE | Discus2 | 266.39 km | | | 0 | 0 |
| 54 | | Hubert Bernhardt | HB | F-CHUB | Discus2 | 242.59 km | | | 1 | 0 |
| 55 | | Jan Podolan | A22 | ANDEL | Discus2 | 240.3 km | | | 1 | 0 |
| 56 | | Jiri Ehrenberger | PJE | OK-6417 | ASW28 | 205 km | | | 0 | 0 |
| 57 | | Josef Chalupecky | 1CH | 0K-2816 | ASW28 | 203 km | | | 17 | 0 |
| 58 | | Oldrich Slavicek | O8 | OK-OLDS | Discus2 | 197 km | | | 1 | 0 |
| 59 | | Miodrag Ivanovic | IDM | YU-1039 | Discus2 | 157.32 km | | | 0 | 0 |
| 60 | | jan vStratum | TP | PH-1004 | LS8 | 157.26 km | | | 0 | 0 |
| 61 | | Slawek Lizon | SLA | SP-1960 | ASW28 | 155.5 km | | | 0 | 0 |
| 62 | | Piotr Raczynski | PIT | SP-2901 | LS8 | 141.28 km | | | 19 | 0 |
| 63 | | Leszek Tomasik | LTO | SP-2188 | Discus2 | 140.6 km | | | 4 | 0 |
| 64 | | Szymon Chomicki | SHI | SP-ARCH | Discus2 | 140.4 km | | | 1 | 0 |
| 65 | | Helmut Kuenne | F9 | D-2318 | Discus2 | 140.4 km | | | 0 | 0 |
| 66 | | Daniel Galuszka | 3Y | SP-3049 | Discus2 | 140.1 km | | | 0 | 0 |
| 67 | | Tomasz Zwolinski | TZ2 | SP-0028 | Discus2 | 139.16 km | | | 0 | 0 |
| 68 | | Jiri Nemecek | D32 | OK6432 | Discus2 | 124.89 km | | | 0 | 0 |
| 69 | | Milos Manas | MM | OK-775 | Discus2 | 118.03 km | | | 37 | 0 |
| 70 | | Saulius Guobuzas | SG1 | LY-GSV | Discus2 | 82.7 km | | | 0 | 0 |
| 71 | | Zbyszek Tkocz | ZBY | ZBYCH | Discus2 | 69.7 km | | | 0 | 0 |
| 72 | | Wlodzimierz Kowalski | DB9 | SP-2964 | ASW28 | 17.2 km | | | 4 | 0 |

Download IGC files (all pilots in one ZIP file) | Detailed results (mCR, mIAS, Detour%...)
Briefing › Day 1 › 27.12.2011 › 20:00 CET › Úterý/Tuesday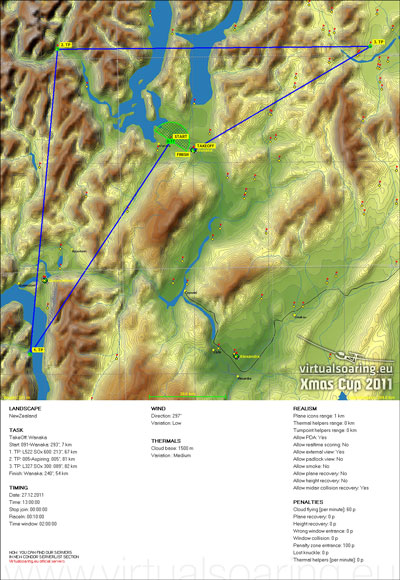 Server:Xmas Cup 2011
Password:NEWZEALAND
Date:27.12.2011
Time:20:00 CET (19:00 UTC)
Join time:30 min.
---
Landscape:New Zealand 0.8
Plane class:Standard Class
Task type:Racing Task
Race-in time:10 min.
Time window:120 min.
Start time:13:00:00
Condor date:27.12.2011
Start alt:max. 1700 m QNH
---
TakeOff:Wanaka
Start:091-Wanaka
1. TP:L522 SOx 600
2. TP:005-Aspiring
3. TP:L327 SOx 300
Finish:Wanaka
Distance:284 km
---
Cloudflying not allowed! Circeling in the direction of climb is determined by the first glider in thermal. If you have doubts about the circeling direction, ask in the chat. Please fly safe, good luck to all pilots.
---

Download Flightplan (FPL file)